Editorial Feature
---
Improve your global profit margins with Airwallex
Streamline your finances, unlock new markets and save on FX fees with an Airwallex account
Let's face it, choosing a business account is probably the least exciting part of owning a drone business. But how you manage your finances can make a big difference to the success of your enterprise, particularly if you operate across borders. 
High street banks charge up to 3.5% above the interbank rate for currency exchange, meaning every time you make a transaction in another currency—whether that's importing equipment, accepting payments from international clients, or using your card abroad—you'll lose a chunk of money.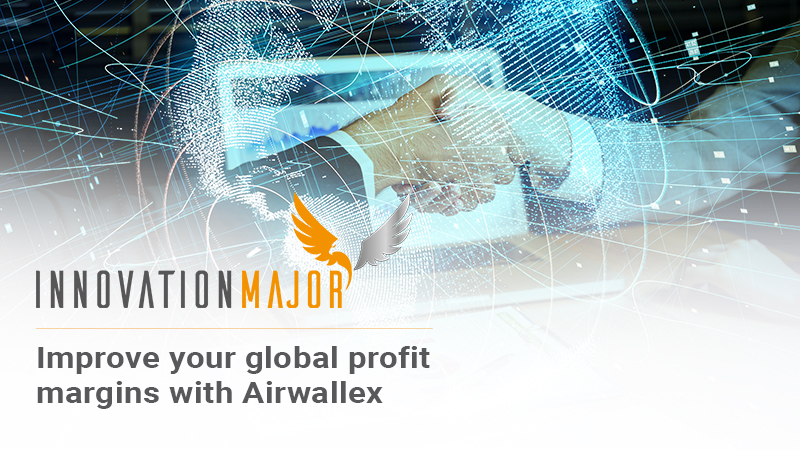 Fortunately, there are ways to reduce and even eliminate these fees. Read on to find out more. 
Spend less on fees and more on growth
By switching your business account to Airwallex, you can free yourself from the burden of high FX fees and money transfer costs, and manage your finances across borders with ease. 
Airwallex allows you to open several foreign currency accounts in a click, meaning you can receive, hold and send funds in multiple currencies (including Euros, US dollars, Hong Kong dollars and Chinese Yuan) with zero fees. 
You can also take advantage of Airwallex's bank-beating FX rates, which are 80% cheaper compared to high street banks. And use Airwallex Borderless Cards to pay for business expenses at home and abroad. 
How you could save with a global account
That all sounds great in theory, but how will an Airwallex account save your business money in practice? Here are five examples which show how you could put an Airwallex account to good use. 
Importing and exporting 
Many of our partners source equipment, such as batteries and controller boards, from overseas suppliers. But paying those suppliers through a traditional bank means losing up to 3.5% on each transaction. Those same companies sell their equipment and services around the world, and are likewise subject to FX fees when their customers pay them. 
This is known as a "double conversion charge", where a business is charged twice for sending and accepting overseas payments. 
Airwallex provides a solution to this problem. Your business can accept payment in multiple currencies (including dollars, euros and GBP) into your Airwallex Global Account without converting funds to your home currency. You can then use those currencies to pay international suppliers, agencies and staff—all without paying any fees! 
If you do need to convert funds, you will benefit from Airwallex's low FX rates, which are 80% cheaper than traditional UK banks. 
Our partners can save money, hedge against foreign exchange risk, and improve their profit margins using this workaround. 
Paying for licences abroad 
If your business operates overseas, training and licence issuing fees can stack up, particularly if you employ multiple pilots. 
Since Brexit, a licence from the CAA will no longer cover UK pilots to fly drones in the EU, you must apply for a separate licence from the EASA. Likewise, to fly drones commercially in the US, you must hold a Remote Pilot Certificate from the FAA. 
The last thing you need when paying for additional costs like these is to be slapped with high FX fees. An Airwallex Borderless Card will allow you to pay for overseas licences, and other international costs, without being subject to extortionate rates. 
Paying international marketing agencies, supply chain fees, and overseas staff
Paying people on time should be a priority for any business, but the banks don't make it easy. International transfers often take days to clear, and hidden fees can result in an underpayment. 
Airwallex uses local banking networks to ensure transfers reach their destination fast and in full. With low FX rates and 0% international transaction fees, you'll also save when you use Airwallex to transfer money compared to other business bank accounts.  
Using your card abroad
Paying for expenses when travelling abroad can be costly. Banks charge up to 2.95% for each transaction in a foreign currency, making those business lunches, train tickets and hotel stays that much pricier.
Airwallex Borderless Cards allow you to spend in multiple currencies with 0% transaction fees and bank-beating FX rates, making overseas business trips a breeze.
What's more, when you join Airwallex you can reward each employee with their own business card to use at home and abroad. Create new cards with a click, set spending limits on a card-by-card basis, and track spending in real-time on the Airwallex platform. You can even sync Airwallex with Xero for hassle-free bookkeeping. 
Paying for SaaS subscriptions and other international expenses
Many SaaS products are billed in dollars, so if your business is based in Europe there's a high chance you're already paying FX fees on your software subscriptions, as well as on other international expenses like Google and Facebook adverts. 
By opening an account with Airwallex you can swerve these fees, and reinvest the money you save back into your business.
Conclusion
The drone industry is home to some of the world's most pioneering enterprises. Our partners leverage technology to reimagine everything from how we respond to natural disasters to how we map the oceans. So why leave your finances stuck in the past?
Switch to Airwallex and you can manage your money across currencies and borders efficiently whilst saving your business money. To learn more, sign up for a free Airwallex account today. 
---